A while ago I wrote about the ongoing changes to my small NAS-Home-Server and promised pictures and updates.
So, now, that the Chenbro case did arrive, I set up the whole system. The first task was to disassemble the PSU from the Chenbro case, as I intend to use a real external 120W PSU. That saves heat-generators inside the case, and allows for less rotations of the fans… The case fans aren't as silent, as the CPU fan, so, yes, sadly, they're audible…
Second task was to disassemble the electric case security switch, as the Jetway board doesn't make use of such info.
You can see the missing parts in image one below… ;-)
After that, I had to build some mounting kits for the 1.8″ Toshiba disks, as the 2.5″ adapter had its holes upside-down, whereas the case had them sideways. So I bought some 7.5mm x 7.5mm (1mm thick) L-shaped aluminum part, cut off 2 x 10cm pieces, and drilled holes into it and created screw sockets (2.5mm). As the adapter has some overhead resistors, I needed to add some distance between the alu and the adapter, which I did by using some plastic. You can see that in the following images.
Then I found, that the board does have two fan sockets, but only one was temperature controlled in the BIOS. So, you see, I needed a Y-cable to connect both fans to the controlled outlet. More on that later…
Next disappointment was: The external 80W PSU did die during power-on, as the 5 disks did draw to much power. So, during power-on I need to currently pull out one of the 3.5″ disks, and re-plug it in a bit later. A new 120W PSU is on its way to me right now…
Next disappoint was: The Jetway board has not been able to see the 2 disks attached to the NM10 chipset as SATA (AHCI) disks, they show up as IDE. OK, no problem for ZFS, it works, but it's a bit slower.
So, with these three disappointments I wrote an email to Jetway, asking for a remedy for these failures. To my great pleasure they did respond immediately, and less than a week later I now have a pre-production version of the new BIOS, that allows to set the onboard SATA port to either IDE or AHCI, and also allows to set parameters for the second FAN socket. So, I switched back to two distinct cables for the two fans, so that they can be set individually. The only thing they did not implement was the "delayed power-on" for the individual disks. But I guess, that will be solved, once I have a more powerful external PSU.
So, power-consumption now is at 43W, when idle, ~55W, when all disks are active. Nice thing is: Hot-swap of disks is do-able, so, once one dies, it's easy to replace it with a bigger one.
Now, I'm only waiting for the OpenSolaris 2010.03 version to appear, so that I can do a clean OS re-install.
So, with that,here are the images, enjoy!
Matthias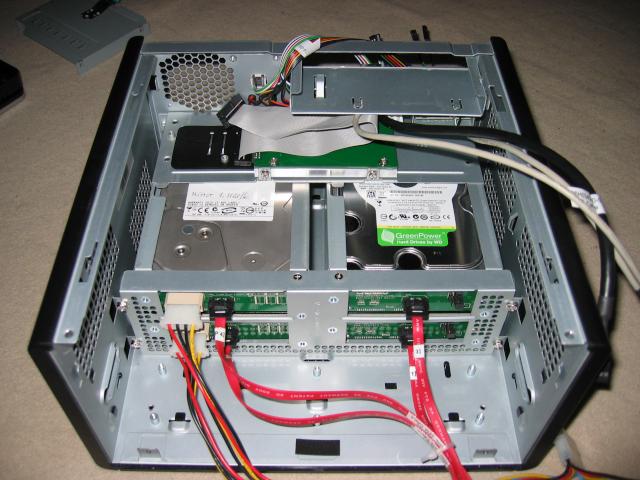 By